We can consider that cinema is an industry that is under three concepts.
The first one is called ''Art of Beauty'', dominated by geniuses and talented artists, which infuses the film with beauty and creativity, providing cinema its greatness. The second ''Technical Art'' or ''Technè'' is itself at the very origin of the creation of film and the evolution of cinematography to the latest digital technology. And last but not least, ''The Industry'', a team of producers, distributors, managers, who work every day to ensure the economic success of their films.
Previously, the Belle Époque flourished the first two concepts: peace and pre-war prosperity allowed them to blossom, as well as new inventions to be created, and new technologies to be developed such as: electricity, automobile, medical, radio, photography and film. But what business model will allow the development of the 7th art, born within this artistic and technical progress? What are the sources of the international co-production that will match the talents of the best directors of today and tomorrow?
At Belle Époque Films, we have an ambition: to open all the doors of finance, marketing, communication, in order to bring to our films the best of international production, allowing them to reach the golden age that we want them to live. The ambition of keeping these concepts and to project the result on the big screen.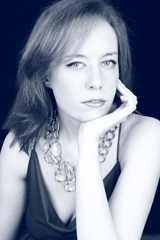 Jenna
Founder and CEO of Belle Époque Films